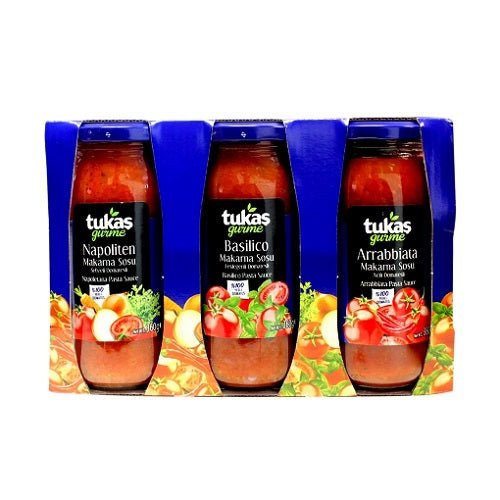 Tukas Napoli-Arabia-Basili Set
Original price
$6.99
-
Original price
$6.99
The Tukas Napoli-Arabia-Basili Set is the perfect way to add a little variety and flavor to your cooking. This set includes three different types of sauces - Napoli, Arabia, and Basili - each with their own unique taste and flavor profile.
The Napoli sauce is a classic tomato sauce that's perfect for pasta dishes, while the Arabia sauce is a rich and spicy sauce that's perfect for adding flavor to meat dishes. Finally, the Basili sauce is a delicious basil pesto that's perfect for adding to salads or using as a dip.
One of the standout features of this set is the high-quality ingredients used to create each sauce. Tukas uses only the finest ingredients, including fresh tomatoes and herbs, to ensure that each sauce is bursting with flavor.
In addition to their great taste, these sauces are also a healthy and nutritious choice. They're gluten-free, vegan, and contain no preservatives, so you can feel good about indulging in these delicious sauces. And with their convenient size, they're easy to store and use whenever you need them.
So why wait? Try the Tukas Napoli-Arabia-Basili Set today and experience the delicious taste and healthy benefits for yourself! Whether you're a fan of classic tomato sauce or spicy and flavorful sauces, this set has something for everyone.