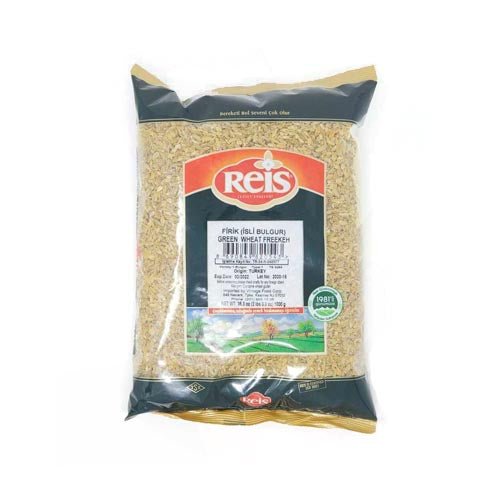 Reis Firik Wheat 1 kg
Original price
$8.69
-
Original price
$8.69
Reis Firik Wheat 1 kg
REIS FIRIK WHEAT 1KG is a high-quality pack of traditional Turkish wheat that is perfect for adding a delicious and nutritious touch to your meals. Our firik wheat is carefully sourced from the finest wheat farms and roasted to enhance its nutty flavor and aroma.
Firik wheat is a unique and flavorful type of wheat that is commonly used in Turkish cuisine. It is made by roasting wheat grains over an open flame, which gives it a deliciously nutty and smoky flavor. Firik wheat is a great source of fiber, protein, and essential vitamins and minerals, making it an excellent choice for those looking to maintain a healthy and balanced diet.
REIS FIRIK WHEAT 1KG is perfect for making traditional Turkish dishes like firik pilaf, soup, and salad. It is also great for adding to baked goods and other recipes for a unique and delicious twist. This 1kg pack of REIS FIRIK WHEAT is convenient and easy to use. Simply rinse the firik wheat with water, soak it for a few minutes, and then cook it in your preferred way.
At REIS, we are committed to providing our customers with the highest quality products at affordable prices. Our firik wheat is no exception. We take great care to ensure that each pack of wheat is made with the finest quality ingredients and packaged with care, so you can enjoy the delicious taste and nutritional benefits of our firik wheat with every use.
So why wait? Add REIS FIRIK WHEAT 1KG to your cart today and experience the delicious and nutritious flavor of this amazing product.