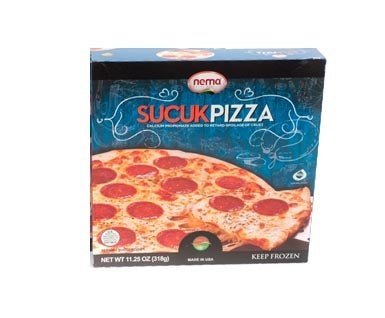 NEMA SUCUK PIZZA
Sold out
Original price
$7.99
-
Original price
$7.99
NEMA SUCUK PIZZA
Looking for a mouthwatering pizza that is sure to tantalize your taste buds? Look no further than NEMA SUCUK PIZZA! Our delicious pizza is made with the finest ingredients and features a savory blend of spices and succulent sucuk sausage that is sure to satisfy your hunger.
Crafted using authentic NEMA recipe, our pizza is baked to perfection in a stone oven, creating a crispy crust that complements the rich flavors of our toppings. Our succulent sucuk sausage is made from high-quality beef and is seasoned with a unique blend of spices, giving it a robust flavor that sets it apart from other pizzas.
At NEMA, we take pride in using only the freshest, highest-quality ingredients to ensure that our pizzas are not only delicious, but also healthy. Our pizza crust is made from whole grain flour, which is packed with fiber and nutrients, while our succuk sausage is free from any harmful additives or preservatives.
So why wait? Indulge your cravings and treat your taste buds to the delicious flavor of NEMA SUCUK PIZZA. Whether you're enjoying it for lunch, dinner, or as a midnight snack, you're sure to love every bite!