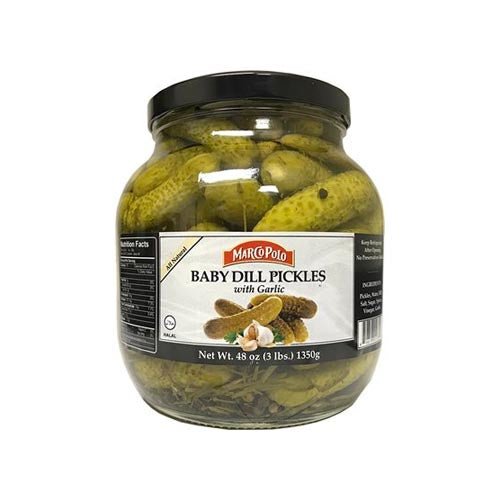 Marco Polo Dill Pickles 48oz
Original price
$4.99
-
Original price
$4.99
Marco Polo Dill Pickles 48oz
Looking for a deliciously tangy and crispy pickle to add to your favorite dishes? Look no further than Marco Polo Dill Pickles 48oz! Our pickles are made with the freshest cucumbers and dill, giving them an authentic and irresistible flavor that's perfect for snacking or adding to your favorite recipes.
Our pickles are crunchy and full of flavor, with a perfect balance of tanginess and spiciness that's sure to satisfy your cravings. Perfect for topping burgers, adding to sandwiches, or just enjoying as a snack, our pickles are a versatile and delicious addition to any meal.
At Marco Polo, we're committed to providing our customers with the very best in taste and quality. Our pickles are made using only the freshest ingredients, with no artificial colors or preservatives, ensuring that you get a truly authentic taste in every bite.
So why settle for ordinary pickles when you can indulge in the delicious taste of Marco Polo Dill Pickles 48oz? Our generously sized jar is perfect for sharing with family and friends, or for keeping on hand for all your snacking and cooking needs. Try it today and experience the ultimate in pickle perfection!