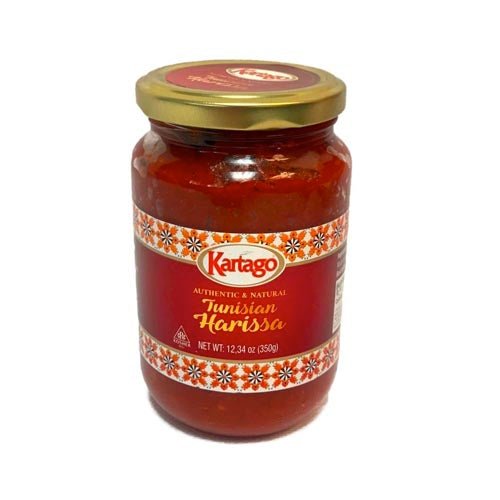 Kartago Tunusian Harissa 350gr
Sold out
Original price
$5.99
-
Original price
$5.99
Kartago Tunusian Harissa 350gr
Looking for a delicious and bold way to spice up your cooking? Look no further than Kartago Tunisian Harissa! Our 350gr jar of premium quality Harissa is the perfect way to add flavorful heat to your dishes.
Made with high-quality ingredients and a traditional Tunisian recipe, our Harissa is a blend of hot chili peppers, garlic, and a variety of spices. It's the perfect way to add bold flavor and a spicy kick to your meals.
Not only is Kartago Tunisian Harissa delicious, it's also made with the finest ingredients and no artificial flavors or preservatives. So you can enjoy the bold flavor and spicy kick of Harissa with peace of mind.
With its convenient 350gr jar size, our Harissa is perfect for adding to sauces, marinades, and as a condiment on the table.
So why wait? Add Kartago Tunisian Harissa to your spice collection today and experience the bold and flavorful taste of this Tunisian specialty. With our SEO-friendly product description, you can easily find us online and start enjoying the deliciousness of Harissa.