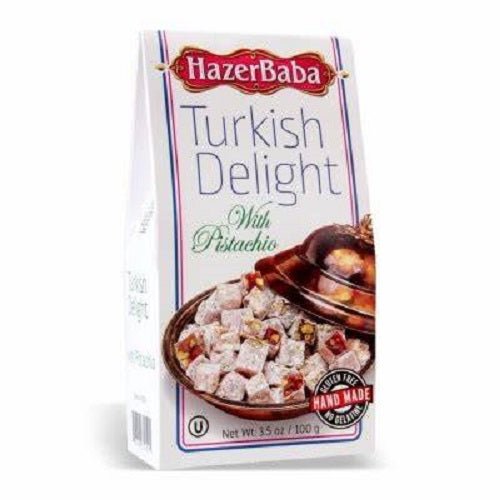 HB PIST. TURKISH DELIGHT 100GR
Original price
$3.79
-
Original price
$3.79
Indulge in the sweet and luxurious flavors of HB Pistachio Turkish Delight, a delightful treat that will satisfy your sweet tooth! This 100g pack contains bite-sized pieces of Turkish delight, made with premium quality ingredients and infused with the rich flavor of pistachios.
HB is a trusted brand that has been producing high-quality Turkish delight and sweets for years, using traditional recipes and innovative techniques. Their Pistachio Turkish Delight pack is a perfect example, offering a unique and irresistible taste experience that will leave you wanting more.
Each piece of Turkish delight is soft and chewy, with a delicate rose flavor and a generous sprinkling of pistachio nuts. This pack is perfect for sharing with friends and family during special occasions or for enjoying as a sweet snack at home or at the office.
This 100g pack is also a great option for gifting or for adding a touch of luxury to your dessert table. The resealable packaging ensures that your Turkish delight stays fresh and delicious for longer.
HB Pistachio Turkish Delight is also gluten-free, making it a perfect sweet treat for those with dietary restrictions. Order your pack today and experience the sweet and luxurious flavors of this delightful Turkish delight!