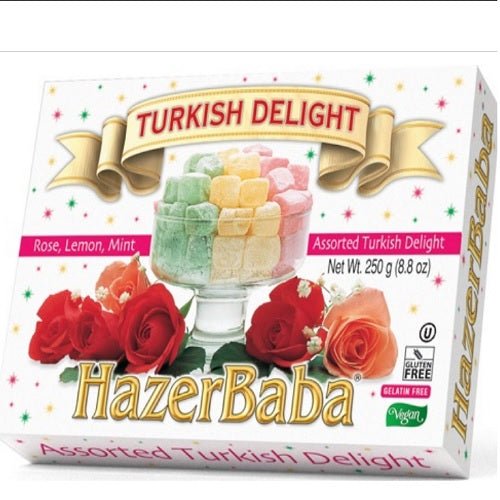 HB Asst Turkish Delight 250gr
Original price
$6.59
-
Original price
$6.59
Satisfy your sweet tooth with the delicious and exotic flavors of HB Asst Turkish Delight! This 250g pack contains a mouthwatering selection of premium quality Turkish delight made with the finest ingredients and traditional techniques. These sweets are perfect for indulging in anytime as a treat or for sharing with family and friends during special occasions.
HB is a trusted brand that has been producing Turkish delight for decades, using authentic recipes and natural ingredients. Their Asst Turkish Delight pack includes a variety of flavors such as rose, lemon, mint, and orange, providing a unique and delightful taste experience that will take you on a journey to the exotic streets of Istanbul.
These sweets are vegan-friendly and gluten-free, making them a perfect snack for everyone to enjoy. The resealable packaging ensures that your Turkish delight stays fresh and flavorful for longer, so you can enjoy it whenever you crave something sweet.
Whether you're looking for a gift for a loved one or a sweet treat to enjoy for yourself, HB Asst Turkish Delight is the perfect choice. Order your pack today and experience the mouthwatering flavors and rich textures of this exquisite dessert!