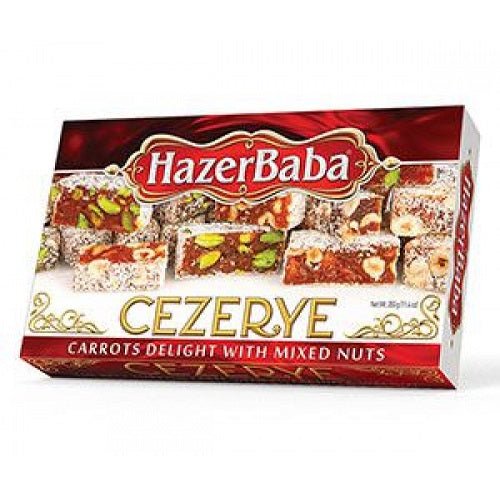 HAZERBABA CEZERYE 350GR
Original price
$8.49
-
Original price
$8.49
Indulge in the rich and delicious taste of Hazer Baba Cezerye! This 350g pack contains premium quality Turkish confectionery made from finely grated carrots, sugar, and nuts. These classic treats are perfect for satisfying your sweet tooth and indulging in a traditional taste of Turkey.
The delicate balance of sweet and nutty flavors in Hazer Baba Cezerye is sure to please even the most discerning taste buds. Each bite is packed with the goodness of wholesome ingredients that have been carefully selected and blended to create the perfect taste.
Made by the renowned Hazer Baba brand, these confectioneries are known for their quality and authenticity. The company uses only the finest ingredients and traditional recipes to create their products, ensuring that each bite is a pure delight.
Hazer Baba Cezerye is perfect for sharing with friends and family during special occasions or simply for enjoying as a decadent snack. This 350g pack is great for stocking up your pantry, and the resealable packaging ensures that your cezerye stays fresh for longer.
Order your 350g pack of Hazer Baba Cezerye today and savor the rich and nutty flavors of these classic Turkish treats!