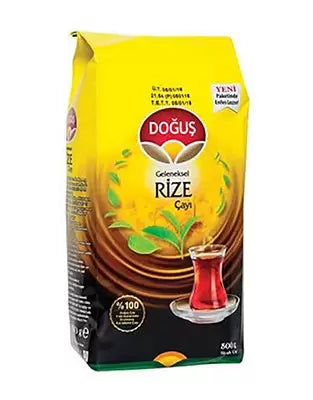 Dogus Rize Tea 500gr
Original price
$6.89
-
Original price
$6.89
Dogus Rize Tea 500gr
Experience the authentic taste of Turkey with Dogus Rize Tea 500gr! This premium tea blend is carefully harvested from the lush tea gardens of Rize, a city on the Black Sea coast of Turkey famous for its high-quality tea leaves.
Each 500-gram package contains only the finest tea leaves, expertly blended to create a robust and full-bodied flavor. The tea is handpicked and processed with care, ensuring that you get the best quality tea that Rize has to offer.
With its deep and rich taste, Dogus Rize Tea is perfect for those who love a strong and flavorful cup of tea. Whether you're looking to start your day off with a kick or relax with a warm cup of tea in the evening, this tea is the perfect choice.
This tea is also incredibly versatile, perfect for brewing in a traditional Turkish teapot or enjoying with milk and sugar for a more creamy and indulgent experience. Plus, the convenient resealable package ensures that your tea stays fresh and flavorful for longer.
So why settle for average tea when you can enjoy the authentic taste of Turkey with Dogus Rize Tea? Order now and savor the rich and flavorful experience of this premium tea blend!