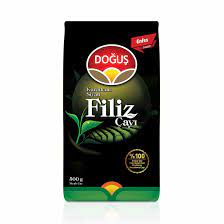 Dogus Filiz Tea 500gr
Original price
$7.19
-
Original price
$7.19
Dogus Filiz Tea 500gr
Indulge in the rich and smooth taste of Dogus Filiz Tea 500gr, a premium tea blend made with the finest quality tea leaves from Turkey. This tea is carefully selected and expertly blended to create a distinct and sophisticated flavor that is sure to impress any tea lover.
Each 500-gram package of Dogus Filiz Tea contains an abundance of tea leaves, perfect for sharing with family and friends or for savoring on your own. The tea is packaged in a convenient resealable bag, ensuring that your tea stays fresh and flavorful for longer.
Dogus Filiz Tea is known for its unique taste and smooth texture. It is perfect for those who enjoy a rich and satisfying cup of tea without any bitterness or harshness. The tea is also versatile and can be enjoyed in a variety of ways, whether you prefer it hot or iced, with or without milk and sugar.
This premium tea blend is an excellent choice for any occasion, from a morning pick-me-up to an afternoon treat or an after-dinner indulgence. It is also an excellent gift for anyone who appreciates the finer things in life.
So why settle for ordinary tea when you can experience the rich and smooth taste of Dogus Filiz Tea? Order now and indulge in the authentic and delightful taste of this premium tea blend from Turkey.