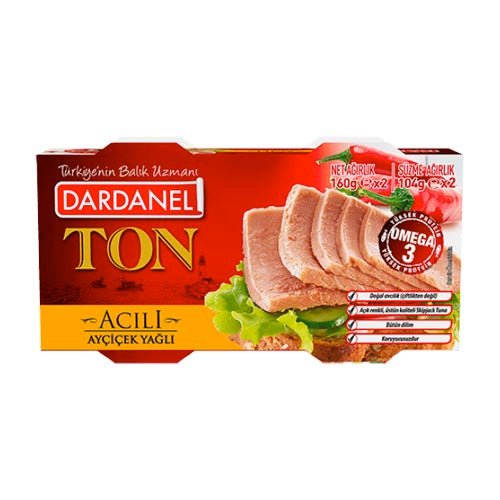 Dardanel Tuna Hot 160grx2
Sold out
Original price
$6.79
-
Original price
$6.79
Dardanel Tuna Hot 160grx2
Experience the mouth-watering taste of Dardanel Tuna Hot 160grx2, the perfect snack for any seafood lover. These cans contain sustainably sourced, high-quality tuna that has been cooked and flavored with a unique blend of spices and seasonings, giving it a deliciously spicy kick.
Each can of Dardanel Tuna Hot 160grx2 contains two servings of delicious and nutritious tuna that's rich in protein and omega-3 fatty acids. And with its convenient size and easy-to-open cans, it's perfect for enjoying on the go or as a quick and easy snack at home.
Whether you're looking for a healthy snack to fuel your day, or a delicious ingredient to add to your favorite recipes, Dardanel Tuna Hot 160grx2 is the perfect choice. Its unique blend of spices and seasonings give it a bold and flavorful taste that will satisfy your cravings and leave you feeling satisfied.
So why settle for ordinary tuna snacks when you can have something truly special and delicious? Try Dardanel Tuna Hot 160grx2 today and experience the perfect combination of sustainably sourced tuna and flavorful spices that will leave you wanting more.