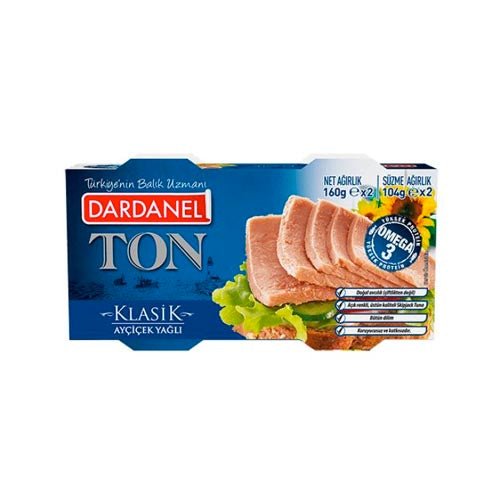 DARDANEL CLASSIC 2x160GR
Original price
$6.39
-
Original price
$6.39
DARDANEL CLASSIC TUNA 2x160GR
Looking for a delicious and satisfying seafood treat? Look no further than Dardanel Classic 2x160GR! Made with high-quality ingredients and crafted with care, this beautiful product delivers a savory and flavorful experience that's sure to satisfy your cravings.
Dardanel Classic 2x160GR is a canned seafood product made from the finest-quality tuna fish, preserved in a rich and flavorful sauce. With its convenient size and easy-to-open can, it's perfect for enjoying as a quick snack or as an ingredient in your favorite recipes.
Crafted with care and using only the freshest and most flavorful ingredients, Dardanel Classic 2x160GR delivers a high-quality seafood experience that's sure to satisfy even the most discerning taste buds. And with its convenient size, you can take it with you on the go and enjoy it anytime, anywhere.
Plus, Dardanel Classic 2x160GR is a great choice for those who are mindful of what they eat. Made with natural ingredients and free from artificial colors and preservatives, you can indulge in this beautiful seafood product without any guilt.
So why settle for ordinary seafood products when you can have something truly special and delicious? Try Dardanel Classic 2x160GR today and discover the perfect blend of savory tuna fish, flavorful sauce, and satisfying seafood flavor that will satisfy your cravings and delight your taste buds.