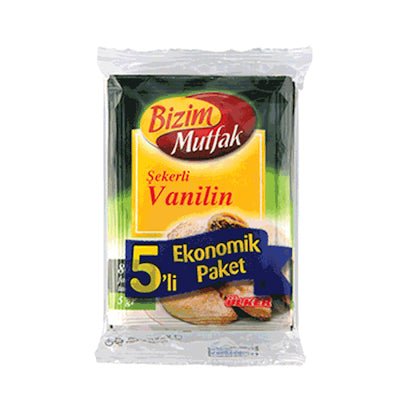 BM Sugar Vanilin 5pk
Original price
$0.79
-
Original price
$0.79
Bizim Mutfak Sugar Vanilin 5pk
Looking for the perfect way to add a touch of sweetness and flavor to your baking? Look no further than BM Sugar Vanilin 5pk! Our premium-quality sugar is infused with delicious vanilla flavor, ensuring that your baked goods have a perfect balance of sweetness and aroma.
Our Sugar Vanilin is perfect for all your baking needs, whether you're making cakes, cookies, or pastries. The convenient 5pk size ensures that you always have delicious sugar on hand for your next culinary creation.
At BM, we take pride in using only the highest quality ingredients in our products. Our Sugar Vanilin is made with natural vanilla extract and premium-quality sugar, ensuring that you get the best taste and quality in every spoonful.
Our Sugar Vanilin is easy to use and can be substituted for regular sugar in any recipe. It also pairs well with other ingredients like cinnamon, chocolate, or nuts, adding a delicious and aromatic touch to your baked goods.
So, whether you're a professional baker or a home cook, BM Sugar Vanilin 5pk is the perfect choice for all your baking needs. Order yours today and experience the delicious taste and quality of our premium sugar with a touch of vanilla flavor!