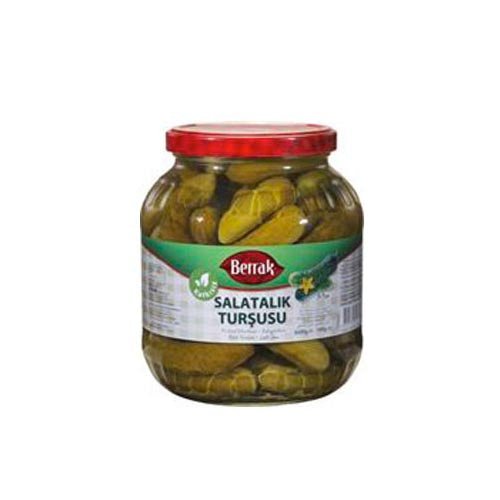 BERRAK GHERKIN PICKLES 1700ML
Original price
$7.49
-
Original price
$7.49
BERRAK GHERKIN PICKLES 1700ML
Satisfy your cravings for a tangy and flavorful snack with BERRAK GHERKIN PICKLES 1700ML. These pickles are made from high-quality ingredients, carefully selected and pickled to create a taste that is both crisp and delicious.
Gherkin pickles are a popular snack option for anyone looking for a healthy and low-calorie snack. These pickles are naturally low in fat and calories, and high in fiber, making them a great option for anyone looking to maintain a healthy lifestyle.
BERRAK GHERKIN PICKLES 1700ML are also a great addition to your favorite meals. Add them to your sandwiches, burgers, or wraps for an extra crunch and tangy flavor, or enjoy them as a side dish to your favorite meats and vegetables.
The generous 1700ml jar size makes it easy to enjoy these delicious pickles anytime, anywhere. Whether you're snacking on them at home, bringing them to work, or sharing them with friends and family, you can always have a jar of BERRAK GHERKIN PICKLES within reach.
So if you're looking for a tasty and healthy snack option, look no further than BERRAK GHERKIN PICKLES 1700ML. Order your jar today and experience the delicious and tangy flavor of these high-quality pickles!