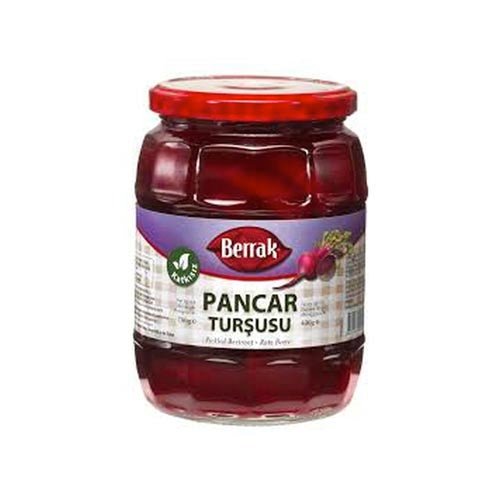 BERRAK BEETROOT PICKLES 720ML G
Original price
$3.49
-
Original price
$3.49
BERRAK BEETROOT PICKLES/PANCAR TURSUSU 720ML
Looking for a delicious and healthy snack that packs a punch of flavor? Try BERRAK BEETROOT PICKLES 720ML G! These pickles are made from high-quality ingredients, carefully selected and pickled to create a delicious and tangy flavor that will tantalize your taste buds.
Beetroot pickles are a great option for those looking to incorporate more vegetables into their diet. These pickles are low in calories and fat, and high in fiber, making them a great option for anyone looking to maintain a healthy lifestyle.
BERRAK BEETROOT PICKLES 720ML G are also a great addition to your favorite meals. Add them to your sandwiches, burgers, or wraps for an extra crunch and tangy flavor, or enjoy them as a side dish to your favorite meats and vegetables.
The convenient 720ML G size makes it easy to enjoy these delicious pickles anytime, anywhere. Whether you're snacking on them at home, bringing them to work, or taking them on a picnic, you can always have a jar of BERRAK BEETROOT PICKLES within reach.
So why wait? Order your jar of BERRAK BEETROOT PICKLES 720ML G today and experience the delicious and healthy flavor of these tangy pickles!