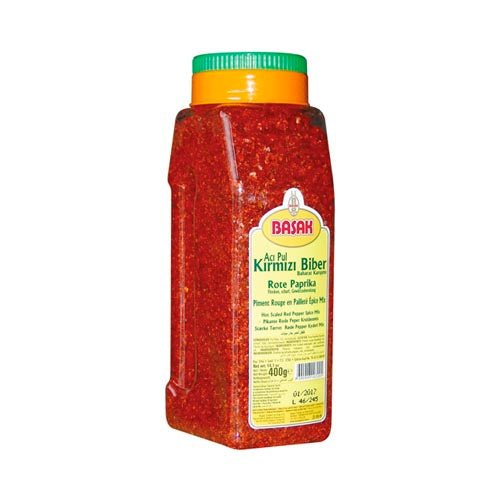 Basak Hot Scaled Red Pepper 400gr
Original price
$6.79
-
Original price
$6.79
Basak Hot Scaled Red Pepper 400gr
This 400-gram package of hot scaled red pepper is perfect for anyone who loves bold, fiery flavors. Made from high-quality, sun-dried red peppers, this spice adds a delicious depth of flavor and heat to any recipe.
And with Basak's commitment to quality and freshness, you can be sure that you're getting the best possible flavor. This pepper is carefully selected, scaled, and packaged to ensure maximum freshness and potency, so you can enjoy the full flavor and heat of red pepper in every dish.
What's more, hot scaled red pepper has a range of health benefits, including aiding in digestion and boosting metabolism. So not only does Basak Hot Scaled Red Pepper add delicious flavor to your meals, it can also help support your overall health and well-being.
Whether you're an experienced home cook or just starting to experiment with new flavors, Basak Hot Scaled Red Pepper is a must-have in your spice collection. So why wait? Add a package to your pantry today and start enjoying the bold, fiery taste of this classic spice!