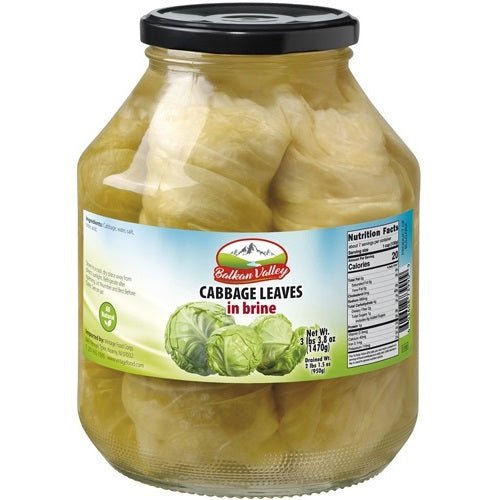 Balkan Valley Cabbage Leavs 950g
Original price
$6.79
-
Original price
$6.79
Balkan Valley Cabbage Leaves are a classic ingredient in traditional Balkan cuisine, and now you can enjoy them in your own kitchen! This 950g jar of tender, flavorful cabbage leaves is perfect for making stuffed cabbage rolls, a hearty and delicious meal that's perfect for any occasion.
Balkan Valley Cabbage Leaves are made with only the freshest, all-natural ingredients, giving them an authentic and delicious taste that's sure to impress. They're packed in a traditional Balkan recipe, ensuring that they're full of flavor and aroma.
With Balkan Valley Cabbage Leaves, making stuffed cabbage rolls has never been easier. Simply fill each leaf with your favorite filling, roll them up, and bake them to perfection. You can also use them in soups, stews, and other Balkan dishes for a unique and flavorful twist.
In addition to their delicious taste, Balkan Valley Cabbage Leaves are also a great source of dietary fiber, vitamins, and minerals. They're low in calories and fat, making them a healthy and nutritious addition to your diet.
So why not add Balkan Valley Cabbage Leaves to your next meal and experience the delicious flavors of traditional Balkan cuisine? With their tender texture and authentic taste, they're sure to become a new favorite in your kitchen.