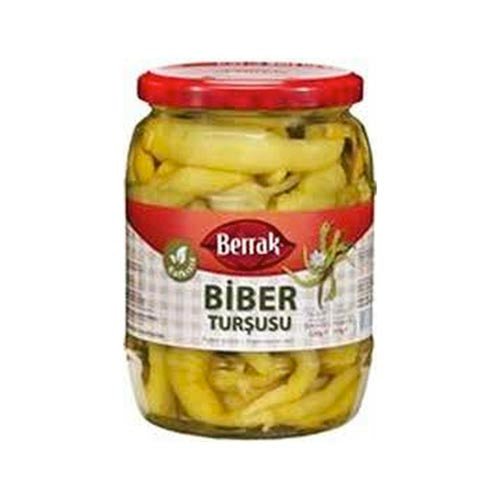 BERRAK PEPPER PICKLES MILD 720G
Original price
$4.99
-
Original price
$4.99
BERRAK PEPPER PICKLES MILD 720G
Looking for a delicious and mild pickled pepper snack to add some flavor to your meals? Look no further than Berrak Pepper Pickles Mild 720g! Our pickles are made from the finest quality peppers, carefully picked and pickled to provide the perfect balance of tanginess and mild heat.
Our pickles are packed with flavor and are the perfect addition to sandwiches, burgers, and salads. They can also be enjoyed as a refreshing snack on their own or as a side dish to your favorite meals. The 720g jar size is perfect for individuals or small families who want to enjoy the taste of Berrak Pepper Pickles without having to buy a larger quantity.
At Berrak, we take pride in using only the highest quality ingredients in our pickles. Our recipe is based on a traditional Turkish recipe that has been passed down through generations, ensuring an authentic and delicious flavor.
Our pepper pickles are also a healthy snack option, as they are low in calories and high in fiber. Plus, the natural fermentation process helps to promote healthy gut bacteria and aids in digestion.
So whether you're looking for a tasty snack or a way to add some flavor to your meals, Berrak Pepper Pickles Mild 720g is the perfect choice. Order yours today and taste the difference!